Everybody should know a couple of easy and fun salad ideas to spruce up any meal. Salads get a bad rep for being boring but they can be super fun and easy. Here's a couple of yummy salad recipes you have to try!
Check out these yummy recipes, too!
Chickpea Salad
This is a favorite in my household, mainly because it's so easy and delicious! Oh, and if you don't have chickpeas, any legume or bean will do! I've tried this with pinto beans and it was just as yummy. This salad recipe is super super fast and easy and all you need are a few ingredients:
1 can of chickpeas (or any bean of your choosing)
2 tablespoons Honey
1/2 a lemon's juice
A bunch of cilantro
1 tomato
1 red onion
1 Avocado
1 medium-sized cucumber
1 tablespoon of olive oil
Basically any other vegetable or fruit you might want to add!
What is so special about salads is that you can literally add anything you want to it, and its the perfect way experiment with different ingredients and you'd be surprised by how good some of the weirdest combos taste! For this salad, the ingredients I listed above are the core ones and its a fool-proof way of creating a chickpea salad. I usually use canned chickpeas because they're super easy and fast. Now, with the ingredients listed above, add all the dry ingredients and then add the honey, lemon, and olive oil. And voila! A super quick and easy chickpea, fool-proof salad. Enjoy!
Cauliflower 'Potato' Salad
This salad is a potato salad with cauliflower instead of the potato. It's super low carb, great for a keto diet and you can't even taste the difference! I tried this recipe for dinner and no one noticed it wasn't potatoes until I told them. All you need is:
1 cauliflower (for two servings)
1 onion (1/2 onion if you have a smaller head of cauliflower)
1 piece of celery
2 hard-boiled eggs
Handful of chives or cilantro
1 tbsp apple cider vinegar
2/3 cups of mayonnaise
1/2 tsp garlic powder
1/2 tsp chili flakes
Now, all you have to do is cut up your head of cauliflower into smaller pieces and cook it either on the stove or in the microwave. The, you just have to boil the cauliflower so that its cooked and tender and easy to chew into and to do this, just boil a pot of water with a little salt and then add the cauliflower until its cooked (it'll take between 5 and 7 minutes). You can do the same thing with the microwave, except use about 2-3 tablespoons of water in a large bowl with the cauliflower cut into pieces for 10 minutes. In the meantime, chop all your ingredients and mix them together.
I like to have bigger pieces of eggs, onions, and celery but its up to you how finely chopped you want them to be. Then, mix your dry ingredients with the wet ones and then add your cooked cauliflower in and that's it! A super yummy and easy cauliflower salad. Definitely one of my favorite salad recipes.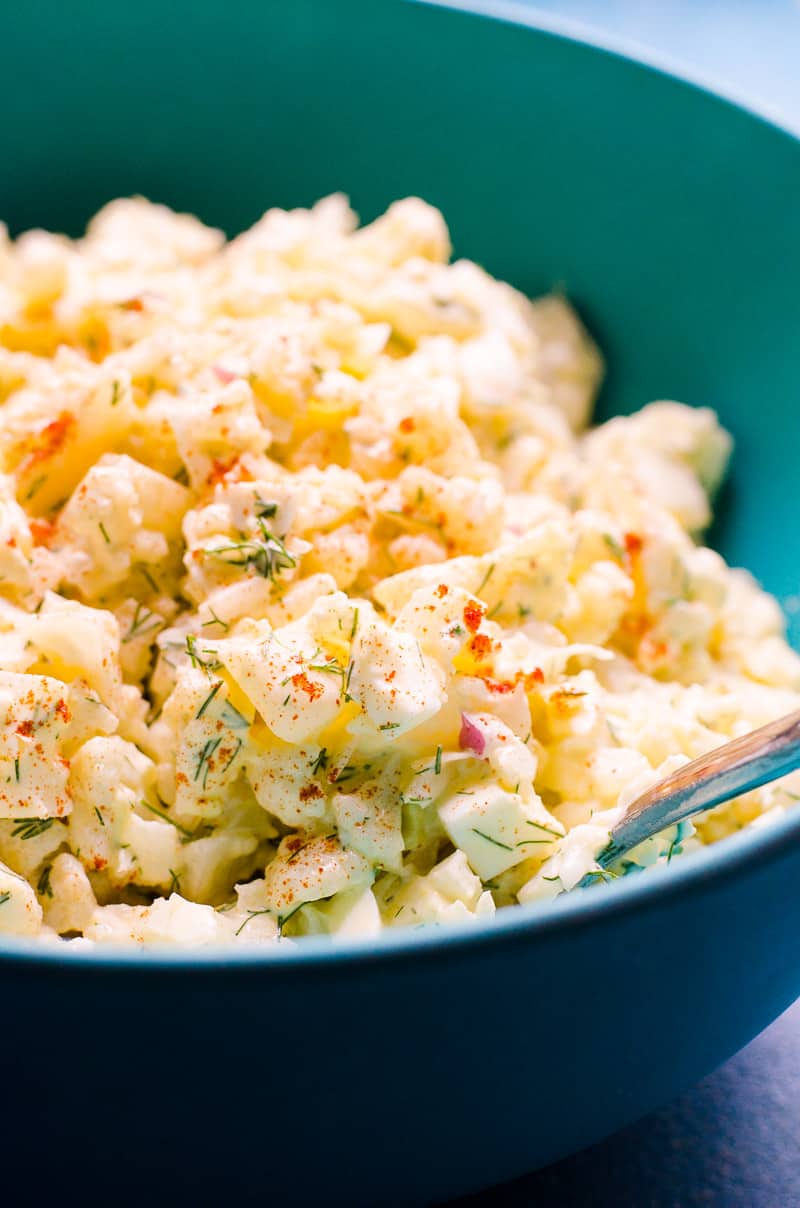 If you liked these salad recipes, you'll love these articles on easy ways to elevate your instant ramen and an easy, vegan pakora recipe!